There have been 14,865 security vulnerabilities (CVEs) published so far in 2022.
Threat Intelligence is critical for organisations of all sizes, as it can provide insights into the adversaries they are likely to be up against. This knowledge can ultimately help companies reduce risk and increase the resilience of their systems, applications and networks.
Smarttech247's Threathub offers a unique, holistic view for organisations by identifying and responding to new threats rapidly. The solution's real-time vulnerability scanning engine generates alerts that inform clients of vulnerabilities in their systems that may be exposed. The engine also provides information on recommended mitigation actions for those vulnerabilities to reduce the risk of exploitation.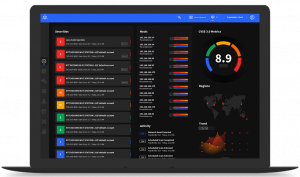 Environment-Based
Whenever a risk is related to a Critical Asset, a "Low" severity issue might critically impact business. By understanding the role of an asset in your environment, you can properly prioritise the risk.
Event-Based
The event-based threat modelling of Threathub allows responding to risks, easier. Whenever there is an Exploit PoC published or traces of exploitation in the wild, the risk relates to non-remediated vulnerabilities. This allows for better prioritising the Remediaiton actions.
Vulnerability Management
Threathub delivers everything you need for a comprehensive risk-based vulnerability management solution — built-in, integrated and ready to use instead of employing single-purpose vulnerability management tools for different asset types in your tech stack.
Threathub brings together:
Data sets of vulnerability research 

Offensive security expertise

Exploit data

Global attacker behaviours

Exposure analytics
The Threathub solution offers real-time vulnerability scanning that generates alerts that inform clients of vulnerabilities in their systems that may be exposed.
The average severity of security vulnerabilities in 2021 was 7.1 out of 10.
Key Features Include:
Automatically assess and understand the risk across your entire infrastructure –

Get insights into the latest threats and attacks targeting your organisation.

Real-time Monitoring & Notification –

Get alerted to new vulnerabilities as they appear, with full context on the threat and how to mitigate it. Shift your focus from fire-fighting to strategic thinking with our comprehensive, ready-to-use reports.

World's Best Threat Source Integrity – 

Deep Integration with SIEMs, Ticketing & Workflow Systems, and Vulnerability Management Solutions.
Want to understand how it works? Request a Free Demo today!
Request A Demo
Book a demo now to find out how Threathub can help you eliminate your fragmented approach to vulnerability management and more.