26 000 Security Vulnerabilities published in CVE Database 2022
Traditional vulnerability detection approaches focus solely on monitoring changes within the client's environment and estimating the risk of bare vulnerability, often missing critical threats emerging from external sources and metrics that affect the risk score. While penetration testing can detect expected vulnerabilities in known assets, it fails to assist security teams in recognizing the constant influx of new cyber risks and threats that occur on a daily basis.
Our Threathub solution leverages data from conventional risk assessment and vulnerability management tools and procedures and enriches that data in order to gain a more comprehensive understanding of threats when analyzing and prioritizing them. ThreatHub actively monitors a wide range of threat intelligence feeds, including national vulnerability databases, vendors' security bulletins, exploit databases, bug bounty programs, blogs, news, social media, and other relevant sources.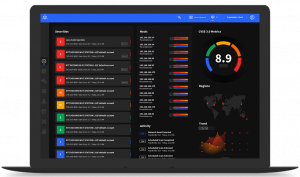 Environment-Based
Whenever a risk is related to a Critical Asset, a "Low" severity issue might critically impact business. By understanding the role of an asset in your environment, you can properly prioritise the risk.
Event-Based
The event-based threat modelling of Threathub allows responding to risks, easier. Whenever there is an Exploit PoC published or traces of exploitation in the wild, the risk relates to non-remediated vulnerabilities. This allows for better prioritising the Remediation actions.
Vulnerability Management
Threathub delivers everything you need for a comprehensive risk-based vulnerability management solution — built-in, integrated and ready to use instead of employing single-purpose vulnerability management tools for different asset types in your tech stack.
Attack Surface Intelligence Management
•Automated Threat Modeling
•Dynamic Risk Prioritization
•Customised Threat Intelligence
•Assets Tracking
•Real time monitoring and notification
•Software Bill of Materials integration
The Threathub solution offers real-time vulnerability scanning that generates alerts that inform clients of vulnerabilities in their systems that may be exposed.
Real-Time Insights for Unparalleled Attack Surface Visibility
Key Features Include:
Automated Threat Modeling – Harness the power of ThreatHub's automated tools to systematically identify and assess potential threats to your systems, applications, and networks.
Dynamic Risk Prioritization – With ThreatHub, dynamically prioritize risks in real-time, leveraging factors such as severity, impact, and contextual information, empowering your security teams to focus on the most critical threats first.
Customized Threat Intelligence – Tailor threat intelligence feeds and information from ThreatHub to your organization's specific needs, receiving targeted insights and relevant data that enhance your threat detection and response capabilities.
Want to understand how it works? Request a Free Demo today!
Request A Demo
Book a demo now to find out how Threathub can help you eliminate your fragmented approach to vulnerability management and more.