Smarttech247 Secures The Automotive Industry With Next-Gen MDR Solutions
The threat landscape facing the automotive industry has evolved dramatically in recent years, underscoring the urgent need for comprehensive security measures. With the integration of advanced technologies such as vehicle-to-vehicle (V2V) communication, autonomous driving systems, and the Internet of Things (IoT), automobiles have become increasingly connected, opening up new avenues for cyberattacks. Malicious actors can exploit vulnerabilities in these interconnected systems to gain unauthorized access, manipulate critical functions, steal sensitive data, or even take control of vehicles remotely. The consequences of such breaches are dire, including potential accidents, privacy infringements, and financial losses for both consumers and automakers. Furthermore, as the automotive sector continues to invest in electric vehicles (EVs) and smart city initiatives, the attack surface expands, making it imperative to secure the entire ecosystem, from vehicle software to charging infrastructure and traffic management systems.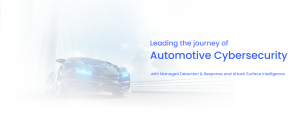 The Cybersecurity Risks Faced By The Automotive Industry 
With all these challenges, the automotive industry has become an enticing and prime target for cybercriminals. Threat actors are driven by motives rooted in financial gain and the desire to inflict reputational harm upon their chosen targets. They recognize the immense value contained within the industry, encompassing closely guarded trade secrets, invaluable intellectual property, and the sensitive R&D data vital to future innovations. Consequently, they relentlessly seek opportunities to breach the defenses of major multinational corporations, often resorting to extortion for substantial sums of money while simultaneously tarnishing the reputation these firms have carefully cultivated over decades. The industry's foundation heavily relies on customer trust and confidence, but even a solitary, high-profile cyberattack can cast a long shadow, leading to enduring repercussions such as decreased sales, erosion of market share, and potential legal entanglements.
Secure every part of the Automotive Industry
Connected Vehicles
Continuous visibility to the telemetry of sophisticated autonomous vehicle is crucial, both for retailers and customers. Our MDR Platform VisionX provides 24/7 round the clock visibility of a vehicle's infotainment systems, telematics, navigation, and communication networks. Along with getting full access to the telemetry of the vehicle, we have a dedicated team of security experts at disposal to add an enriched context to the security integrations in real time.
Supply Chain
The automotive industry involves a complex and extensive supply chain network comprising numerous suppliers, vendors, and partners. Smarttech247 is certified with industry standards including ISO900, ISO27001 and NIST, thereby making us trusted partners for Automotive Manufacturers. With our GRC Services embedded within our MDR Platform VisionX, we enable manufacturers assess and enforce cybersecurity standards across all suppliers.
Industrial Processes
Automotive Industry is highly process-driven, therefore cybersecurity is essential to secure these industrial processes. Industrial control systems (ICS) and production robots are integral to the processes, and any compromise of these systems could lead to disruptions, production errors, or even physical harm to workers. Our MDR Capabilities enables security of automotive processes by allowing implementation of security protocols, access controls, and continuous monitoring of all the critical systems that could impact efficiency and quality.
Data Privacy
Automotive retailers handle vast amounts of sensitive data, including customer information, intellectual property, and proprietary research. Protecting this data from breaches and unauthorized access is crucial to maintain customer trust and comply with data privacy regulations. Our DLP solutions powered by Forcepoint DLP are focussed on Data-First SASE and we aim to protect every environment, be it cloud or on-prem. We enable data encryption, strict access controls, and the implementation of best practices for data storage and handling.
Strengthen Your Automotive Security with Smarttech247's Comprehensive MDR Solutions
In the dynamic world of automotive technology, maintaining trust and safeguarding every journey is paramount. At Smarttech247, we recognize the critical importance of securing the automotive industry. Our cutting-edge MDR (Managed Detection and Response) Solutions, fortified by the VisionX MDR Platform and ThreatHub Attack Surface Intelligence Platform, empower automotive manufacturers and retailers to stay vigilant and prioritize robust cybersecurity measures. With a commitment to holistic security, our advanced MDR Solutions are complemented by an array of services, including Penetration Testing, Risk Assessments, and GRC Services, ensuring comprehensive coverage of every security need within the expansive Automotive Industry. Secure it with Smarttech247 and drive confidently into the future of automotive innovation.
Managed Detection & Response with VisionX
With around-the-clock security orchestration, monitoring, and rapid incident response, VisionX ensures your organization remains safeguarded from potential security threats. Our proactive approach and state-of-the-art MDR platform work in tandem to minimize threat dwell time, reduce data breach risks, and guarantee timely incident response, thereby safeguarding your organization's seamless operations. VisionX offers comprehensive cybersecurity validation, dynamic risk governance, and seamless security technology integration. This empowers your organization to scale securely and confidently, making VisionX the ultimate solution for your cybersecurity needs.
Attack Surface Management with ThreatHub Intelligence
With the ever expanding threat landscape and the nature of risks, the challenge of attack surface management extends beyond just discovering vulnerabilities in known assets. Modern cyber security demands continuous monitoring of your entire threat surface and requires contextual insights into risks. ThreatHub is our next generation AI powered automated attack surface intelligence platform providing real-time continuous insights into emerging threats and attack vectors. Designed with a hacker-mindset, ThreatHub is powered with intelligent automation driven by human-context, making it our industry leading solution for managing your entire threat surface, both internal and external vendors.
CLIENT CASE STUDY
AutoNation Trusts Smarttech247 for Superior MDR Solutions
AutoNation is a Fortune 500 company with 26,000 associates at over 360 new vehicle franchises across 16 states and an annual revenue of nearly $30B. Given the extensive reach of the company and the sensitive nature of the data it handles, cybersecurity is paramount for AutoNation. The company deals with financial transactions, customer information, and proprietary data related to automotive products and services. With a substantial online presence, AutoNation is susceptible to cyber threats such as data breaches, ransomware attacks, and phishing attempts. AutoNation selected Smarttech247 as their cybersecurity partner based on our ability to provide comprehensive Managed Detection and Response (MDR) solutions that perfectly aligned with their cybersecurity needs. With Smarttech247's assistance, AutoNation achieved full visibility across their entire environment, a crucial element in today's cybersecurity landscape where threats can emerge from various sources.
This newfound visibility allowed AutoNation to gain a deeper understanding of their network and systems, helping them proactively identify and respond to potential security threats.Our MDR solutions not only enhanced AutoNation's cybersecurity posture but also played a pivotal role in supporting their customer-centric approach. By partnering with Smarttech247, AutoNation could focus on delivering solutions that bring them closer to their customer journeys. This means that they could prioritize their core business operations and customer satisfaction, knowing that their information security and risk management were in capable hands. Smarttech247's comprehensive MDR capabilities offered AutoNation the assurance they needed to protect their sensitive data, financial transactions, and proprietary information. This partnership ensures that AutoNation can continue to thrive in the competitive automotive retail industry while maintaining the trust of their customers and employees.
Largest Global Automotive Retailer
securing their Global Operations
with Smarttech247
Securing the Future of Mobility
The automotive industry has witnessed an electrifying revolution with the exponential growth of electric cars and the demand from customers around green energy. Propelled by advancements in battery technology, environmental consciousness, and increasing consumer demand for sustainable transportation, electric vehicles (EVs) have rapidly emerged as the future of mobility. With an unprecedented push towards reducing carbon emissions and combatting climate change, governments, automakers, and tech giants worldwide have joined forces to usher in this transformative era of cleaner, greener, and more efficient transportation.
The remarkable growth in electric vehicle (EV) industry is reshaping the automotive landscape. However, the increasing integration of cutting-edge technologies, connectivity, and autonomous features in electric vehicles has exponentially increased the cyber threats and expanded the attack surface. Ensuring the safety, integrity, and privacy of electric cars has become paramount, as cybercriminals seek to exploit vulnerabilities in EV systems, software, and communication networks. With Smarttech247 cyber solutions driven by innovation, you can rely on our industry expertise to build the future of mobility with confidence for your customers, gaining their trust and reliability.

Getting ready for the future
The Automotive Industry is undergoing rapid shifts with a growing focus on innovative technologies and autonomous vehicles. With this, it becomes increasingly vital to have a focus on leading the entire value chain with cybersecurity at the forefront. We ensure our clients get the solutions that drive the future of their business. Driven by innovation and automation and fuelled by industry expertise and operational excellence, we ensure our clients are prepared for the future. Our understanding of the industry and the
Cybersecurity & Digital Trust
Smarttech247 Cyber Solutions helps Automotive Industry grow and scale with confidence while keeping their customer's journey safe on the roads. Our MDR and Threat Intelligence powered by leading security tools provide secure and reliable digital technologies, connectivity, and data handling throughout the vehicle's lifecycle, ensuring safety, privacy, and protection against every cyber threats of present and futue the industry
Blockchain Security
Blockchain Technology has become a core part for the future of Automotive Industry. Smarttech247 has a remarkable Data Security Solution in place powered by Forcepoint DLP that enables blockchain security for the industry, ensuring transparent and immutable records of vehicle data, supply chain information, and maintenance history, enhancing data integrity throughout the value chain.
Intellectual Property Security
With new-gen cars dominating the automotive manufacturing industry, protecting intellectual property is vital for manufacturers. With our Security Services, GRC Practices and MDR Solutions, we help you safeguard proprietary designs, technologies, and innovations from theft or unauthorized use, ensuring exclusivity and competitive advantage in the market. We follow a customer first approach and we deliver expertise and trusted service.
Signs You're Ready to Break Up With Your MSSP
No proactivity and Poor Communication
Are you constantly wanting more from your MSSP? Having a service provider with world-class, around-the-clock security monitoring and alerting, incident response and remediation capabilities is crucial, but communication goes both ways. A great security partner should be reaching out to make sure that their services are meeting your needs. They should be providing you with important high-level alerts in a fast and efficient manner, keeping you up to date with what is happening in your network, and discussing any potential areas of risk that you should be aware of.
Poor Engineering Capabilities
There's a perfect fit for every company, but when it becomes unclear what you're getting and from whom, you can end up with the wrong fit. A great MSSP offers a variety of services that can be tailored to meet your unique needs. That includes security engineering. Your MSSP must be able to communicate the health status of your log sources in a manner that is suitable to you. One of the most important elements of having a security operations centre is ensuring that your security tools are properly tuned, sending healthy logs to your SOC and that you have visibility over your entire estate. That clear visibility is crucial for your organization.
Too many alerts and false positives
Organizations can become overwhelmed by the volume of alerts generated by their security provider. This can lead to the client getting overwhelmed and potentially missing legitimate attacks against their network. Partnering with a MSSP should help you reduce alert overload and make the most of the information provided by the security solutions in place. More importantly, you should be getting answers to questions like What happened? When did it happen? How did it happen? What's the risk? What should we do next?
Lack of Transparency
You may see many MSSPs offering 6-month free trials or promising only a minor investment upfront, only to be slammed with huge bills once this time lapses. Transparency with your clients is key and there are plenty of places to look out for this – start with the companies' website, do they have case studies/ testimonials from previous clients? Ask the questions up front, are they being honest and transparent?
A partner you can trust
Smarttech247 as your Trusted Partner
At Smarttech247, innovation is at the core of our cybersecurity solutions, designed to streamline and future-proof our clients' security operations. With a customer-first approach, we customize our offerings to meet the specific needs of each client. Backed by extensive industry experience and a team of highly specialized security professionals, we stand apart from others, offering reliable support round-the-clock. As your trusted partner, our sole aim is to ensure our customers' security and peace of mind.
YOUR TRUSTED PARTNER
Driven by Innovation
Smarttech247 invests heavily in R&D and Innovation to drive the development of new and cutting-edge cybersecurity solutions to stay at the forefront of industry trends and emerging threats. We deliver advanced and effective solutions and incorporate AI and Intelligent Automation in our solutions to address the ever-changing landscape of cyber threats, thereby providing our clients with a competitive advantage and a highly robust security posture.
Led by Operational Excellence
At Smarttech247, we deliver the highest level of service and value to our clients by establishing streamlined processes, implementing best practices, leveraging advanced technologies and fostering a culture of continuous improvement. We heavily focus on providing exceptional customer experiences and resilient security operations capable of adapting to evolving threats, protect their data and safeguard their digital transformation journey.
Powered with Technology
Smarttech247 excels in integrating security technologies across various environments, including cloud, on-premises, and hybrid setups. This integration allows for centralised monitoring, correlation of security events, and streamlined incident response. By leveraging APIs and integrating with SIEM platforms and other security tools, Smarttech247 ensures seamless data flow and enhanced visibility into an organisation's security infrastructure.
Book a Demo with our experts today and our team of experts will reach out to you for showcasing our capabilities and share our success stories with our leading automotive clients.