Today's networks are more complex than ever before, and protecting them from increasingly malicious and sophisticated attackers is a never-ending task.
Organizations seeking to protect their customers' identities, safeguard their intellectual property and avoid business disruption need to proactively monitor their environment so that they can rapidly detect threats and accurately respond before attackers are able to cause material damage.

Scale your security and compliance operations
The Smarttech247 next-generation SOCs are powered by proprietary and industry-leading technologies and methodologies, combined with the expertise of our threat hunters and analysts to gain full-spectrum visibility of data and threats.
We protect your on-premise/cloud/OT environments – 24x7x365
Smarttech247 ensures your critical assets, data and network are secured and compliant with our dedicated managed security services. Your entire SOC requirement can be set up in days – not weeks or months
Real Time Visibility Throughout the Entire IT Infrastructure
The VisionX MDR platform combined with QRadar SIEM is designed to provide security teams with centralised visibility into enterprise wide security data and actionable insights into the highest priority threats.
As a first step, the solution ingests a vast amount of data throughout the enterprise to provide a comprehensive view of activity throughout on-premises and cloud based environments. As data is ingested, the platform applies real time, automated security intelligence to quickly and accurately detect and prioritise threats.
Benefits
Provides near real-time visibility for threat detection and prioritisation, delivering surveillance throughout the entire IT infrastructure.
Reduces and prioritises alerts to focus investigations on an actionable list of suspected incidents.
Enables effective threat management while producing detailed data access and user activity reports.
Supports easier, faster installation and includes time-saving tools and features.
Produces detailed data access and user activity reports.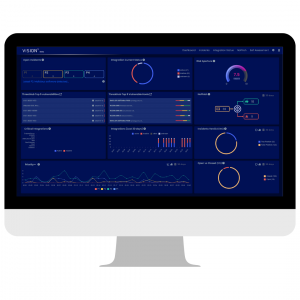 Contact Us
Contact one of the Smarttech247 experts now!