VisionX is an AI powered platform that allows organisations full transparency and visibility into everything that's happening throughout their organisation.  
VisionX Demo helps you to:
Improve Visibility Across Your Environment
Detect Advanced Threats
Eliminate False Positives
Streamline Operations
Automate The Right Actions
Deliver 24/7 Managed Threat Hunting
Around-the-clock expert monitoring to defend against threats and stop adversaries.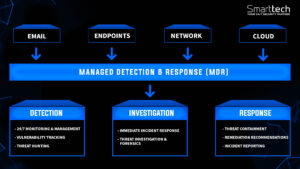 Request A Demo
Book a demo now to find out how VisionX can help you Improve Visibility Across Your Environment, Detect Advanced Threats, Eliminate False Positives and more.